FACE MASK III: A 21+ EVENT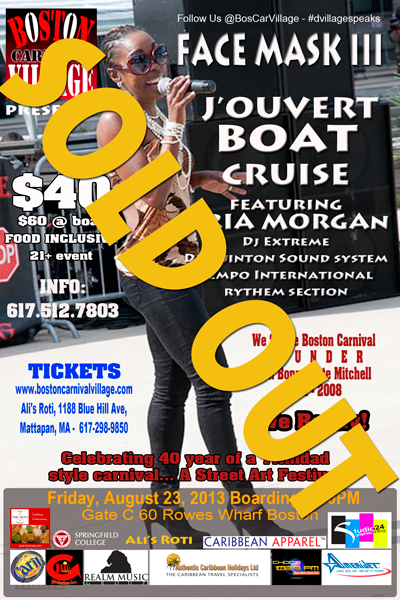 <!...........................................................map.....................................>

View Larger Map <!img src="image/support.png" width="638" height="300" />
<!.....................................................end map.......................................>
J'OUVERT BOAT CRUISE
Advance $40 - At Boat $60
Boston Carnival Village 3rd Annual
Jouvert Boat Cruise:
FACEMASK III

Featuring; Dj Extreme
Boston's Tempo Rhythm Section
Dj Quinton sound system
Carib Larger Beer
FOOD catered by Caribbean Rhythm Restaurant
Gift packs for the Best Painted Face
Best Costume or Best Face Mask and a whole lot more. Reserve your tickets early!!!

PURCHASE AT BOAT OLINE SOLD OUT CALL 617-512-7803

bostoncarnivalvillage@gmail.com
617-512-7803
save your receipt, it is your boarding pass special code enabled
SPONSORS
Ali's Roti Restaurant - 617.298.9850
CARIB LAGER BEER Trinidad LTD
Imex Cargo
Caribbean Appreal
Springfield College
Realm Music Group
Caribbean Rythm Restaurant
Big Bobby G CHOICE 102.9 FM
Authentic Caribbean Travel

PROMO PACK
The sponsors listed above have enjoyed great rewards promoting their business our services with Boston Carnival Village, you can too look at our
Promo Package (pdf)
and call us today.
PRESS RELEASE