Welcome to BostonCarnivalVillage.com the best is yet to come...
Dear Visitor,
It is with great pleasure we welcome you to BostonCarnivalVillage.com, the official home of Boston's Trinidad Style Carnival, our web site is designed to promote, traditional costume bands, Jouvert and the Steel pan fraternity.
Connect with the bandleaders, download registration forms, win tickets to upcoming events, listing of events, you can also read reviews of the many artists visiting Boston.
Boston's Trinidad style carnival Street Art Festival also features bands from several Caribbean organizations residing in New England.
Be a part of the action, join a band and experience the excitement of donning a costume and dancing to intoxicating Soca, Calypso and Steel-Bands music on the streets of Boston; and savor culinary treasures prepared by some of the Caribbean's finest home grown chefs. - CELEBRATING 40 YEARS Thanks Ken.
Michael C. Smith President BCV
.
Culture Corner
REVIEW: What on tap for Boston Carnival Village in 2015
To submit a topic or commentary send it along and if approved, it will get posted. You will be cited as the contributing author.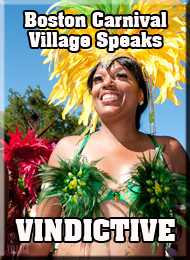 Kiddies Carnival (Photo Gallery) – An event filled with fun for the family. The event takes place at White Stadium and has a seating capacity for about 5000 people. Performance includes Steel band music, dance, face painting and performance by several other young artists. Caribbean food and beverage available.
---

The King & Queen Show is held at the
Reggie Lewis Center, Boston
. It features the larger costumes which are part of each band's presentation for the season. A wonderful opportunity for the audience to experience a close-up view of the costumes. Entertainment is provided by Steel bands, local artists and an assortment of international Soca artists. Past entertainers:
Mighty Shadow
,
Crazy
and
Shurwayne Winchester
---

Jouvert (Photo Gallery) begins very early (about 6:00AM) and participants wear costumes of their own design. It is typically dark in terms of presentation and very humorous. Most arriving from out of town , several arriving a day or two before to check out the parties and boat cruise. Band wanting to participate, click on Jouvert organizers link for details. Registration Form pdf
---

The Parade starts at 1:00 pm and moves along Blue Hill Avenue and culminates in front of Franklin Park Zoo a distance of about 1.5 miles. Masqueraders gather about three hours prior to start of the parade on Martin Luther King Boulevard in Roxbury, MA.  The food court is located in front of the Zoo, which features many different Caribbean and American cuisines.  Arts and Crafts, music & video CDs, other items are also available. ~ Parade Map pdf
Magazine AD Rates Pay HERE